Education is essential – there is no question about that. Most people believe – the more schooling you have received, the more successful you will be. In general, people who have received minimal education or drop out will struggle to make their career a successful journey. That's the most common perception, at least. Siva Kala has proved that this perception is wrong and the person with a clear target and an absolute dedication can achieve anything they want in their life.
She was born and brought up in a middle-class family in Pileru Town, Chittoor district. Even though she was an intelligent student, her family's poor financial condition made her stop her education at the high school level. Despite her educational qualification, she wanted to stand tall as one of the most successful women in their family. She is very much interested in making herself, others beautiful and decided to take this as her career. She thought it's pointless in devoting herself in something which she doesn't have a passion for. So, she decided to turn her passion into her career.   
She is not the kind of girl who settles for less. She always wanted to be someone who made a difference. She was interested in facial services and making others beautiful. So, she decided to take up beauty as a career. She was surprised to find a lot of career opportunities in the beauty industry. Through her friends' circle, she came to know about Eemos, seen their reviews and success stories on their website. That's how she worked her way to Eemos Beauty Academy in Tirupati, to learn beauty parlor services. Despite the issues and struggles that she faced to learn and family tensions, she always progressed without losing confidence. Finally, she completed the course successfully.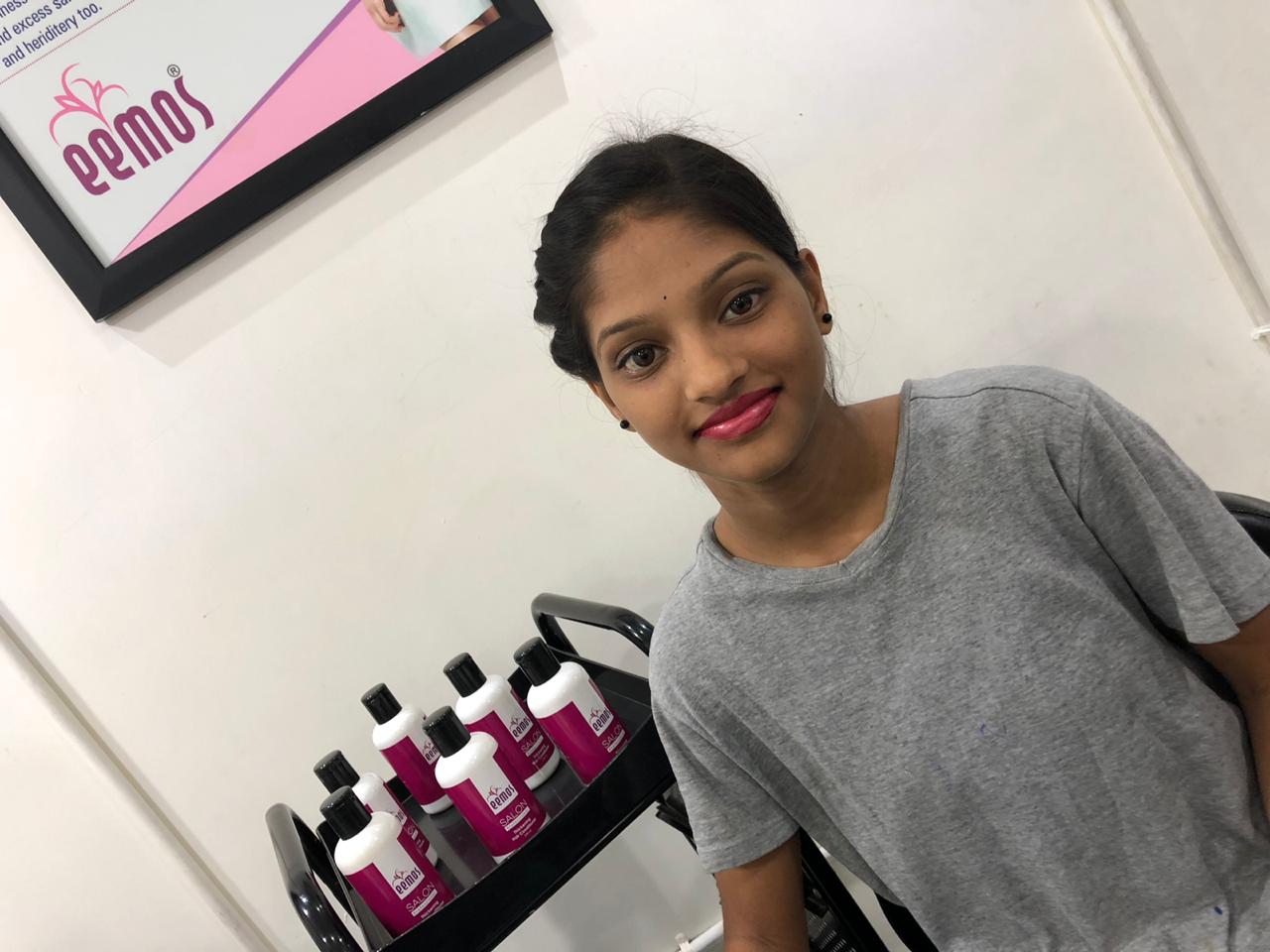 "I feel that Eemos beauty parlor course has a huge impact on my life that helped me look at things and situations in a very different manner." – Siva Kala
"Our tutor, Mohana Lakshmi is a very good beautician with vast knowledge about beauty. She completed the CIDESCO Certification (Switzerland) & Cosmetic Formulation Course in the USA under the guidance of leading cosmetic formulator. I concentrated more on her client management skills where I struggled more. She is very genuine to clients, explains each and everything in detail from makeup to starting a beauty parlor. If you see her working in the parlor, you will see her working with absolute commitment and delicately beautifying and making her clients happy. This nature of our tutor made us aware of the importance of client management in the beauty industry." – Siva Kala 
"The happiness on my clients' face is what motivates, satisfies and keeps me going" – Siva Kala
Soon after her training, she got placed in one of the reputed beauty parlors in Tirupati. Her training has helped her become so proficient that she began to get appreciation from day 1. She was very happy with the work, upskilling programs and recognition she got at the beauty parlor. As they said the days are not going to be the same forever, she couldn't be happy when there were problems at home. She had to leave the job and take care of the family. 
She felt that my dream of pursuing my career in the beauty industry got shattered. Not being the one to give up, she came back and raised above all the problems. She thought it would be helpful for the family if she earns money, moreover, it's my passion to work in the beauty industry. Her family too agreed with her idea. This made her determined and work even more towards her dream of starting a beauty parlor in Tirupati, however, it took 6 long years with absolute dedication. With this, she completely entered into the world of entrepreneurship. But, she hasn't been a successful entrepreneur always. Just like many other entrepreneurs, she also failed many times before finding success.  
"My passion for beauty, making others beautiful and the scope of making a career and earning money helped me become what I am today." – Siva Kala
Presently, she is running a medium-sized beauty parlor in Tirupati, taking care of her professional and family life very well. Her parents are pleased too. She is looking forward to learning more and developing her parlor like a brand. 
"Obstacles come up in life, but I always face them as challenges with my passion for what I am doing. I believe that I can't fail if I never stop trying." – Siva Kala